Dashboards & General Features
Validation has gone mobile
SUPPORTS WINDOWS, APPLE AND ANDROID MOBILE DEVICES
VIEW VALIDATION STATUS ON DEMAND. Check test execution status, requirements coverage, open incidents, top risks, test release summary and much more.
Color-coded dashboards provide real-time status of validation activities across multiple projects.
ACTIONABLE VALIDATION INTELLIGENCE
Gain actionable intelligence and insights on validation status. Drive efficiencies and avoid project bottlenecks.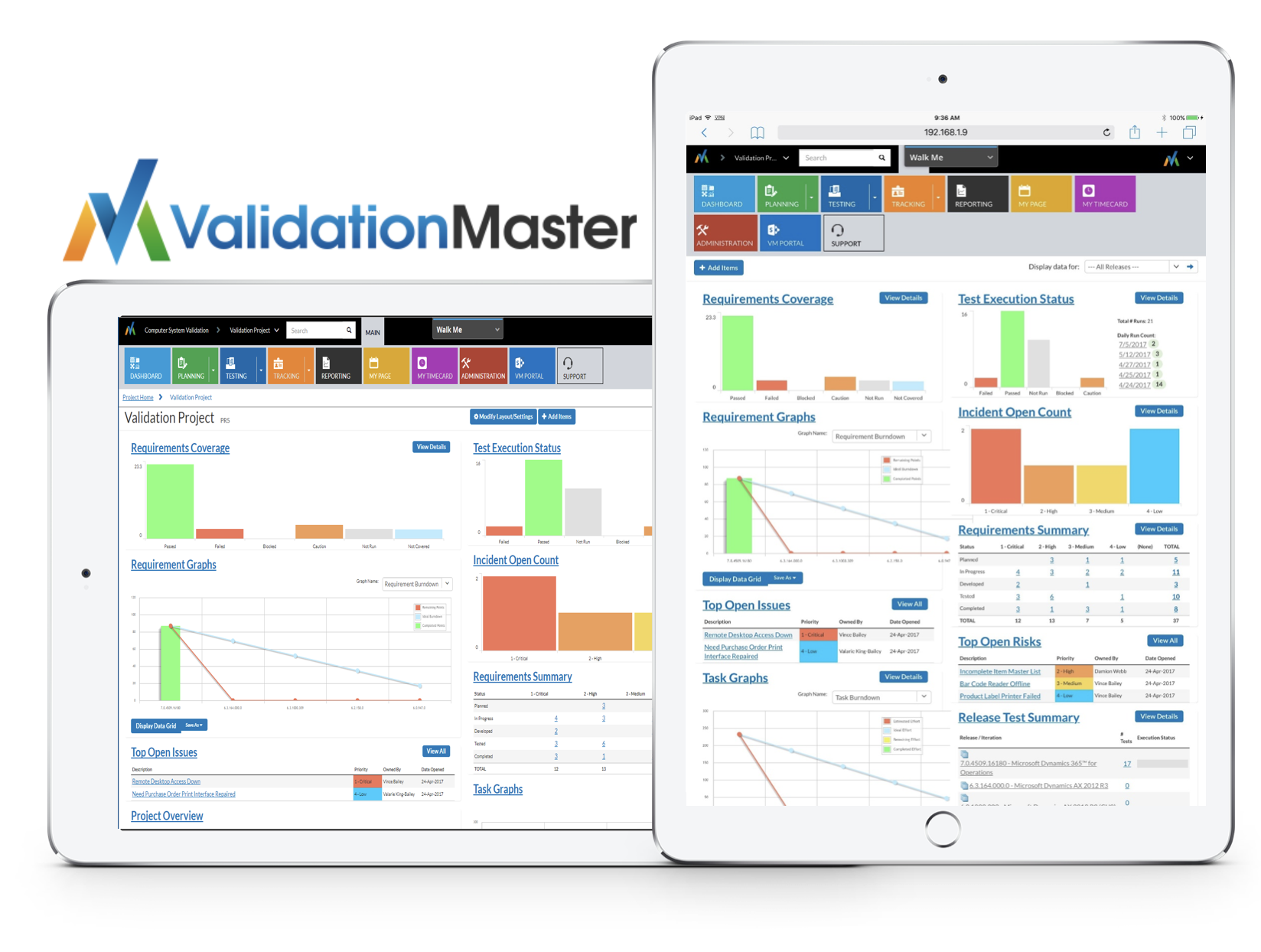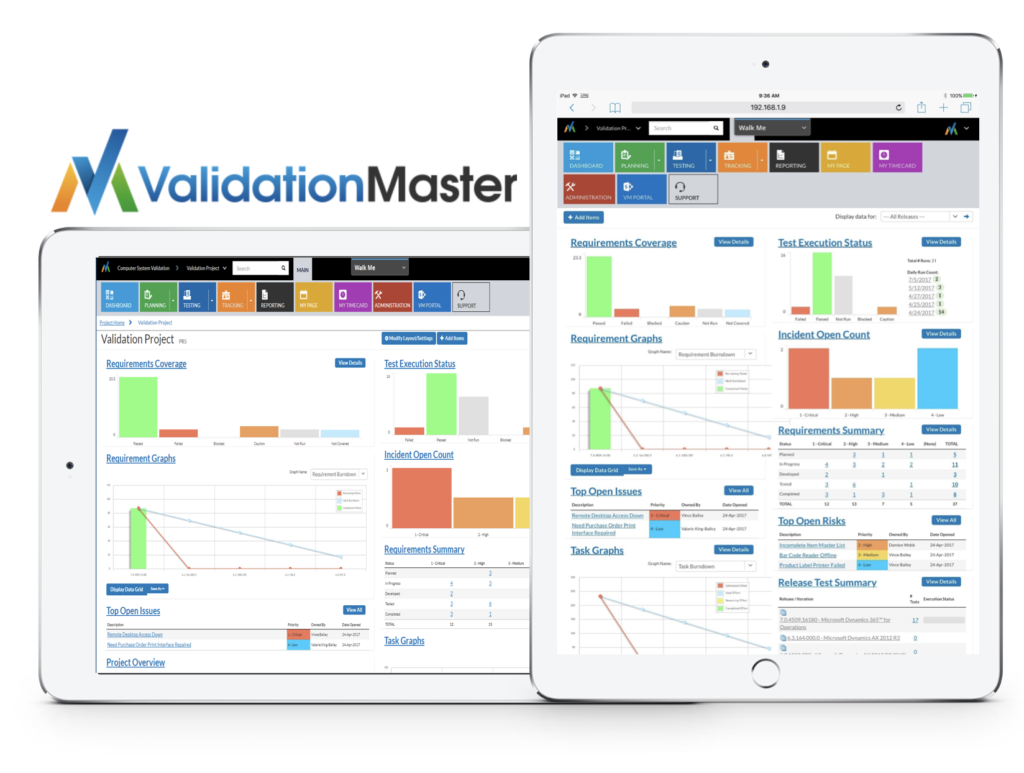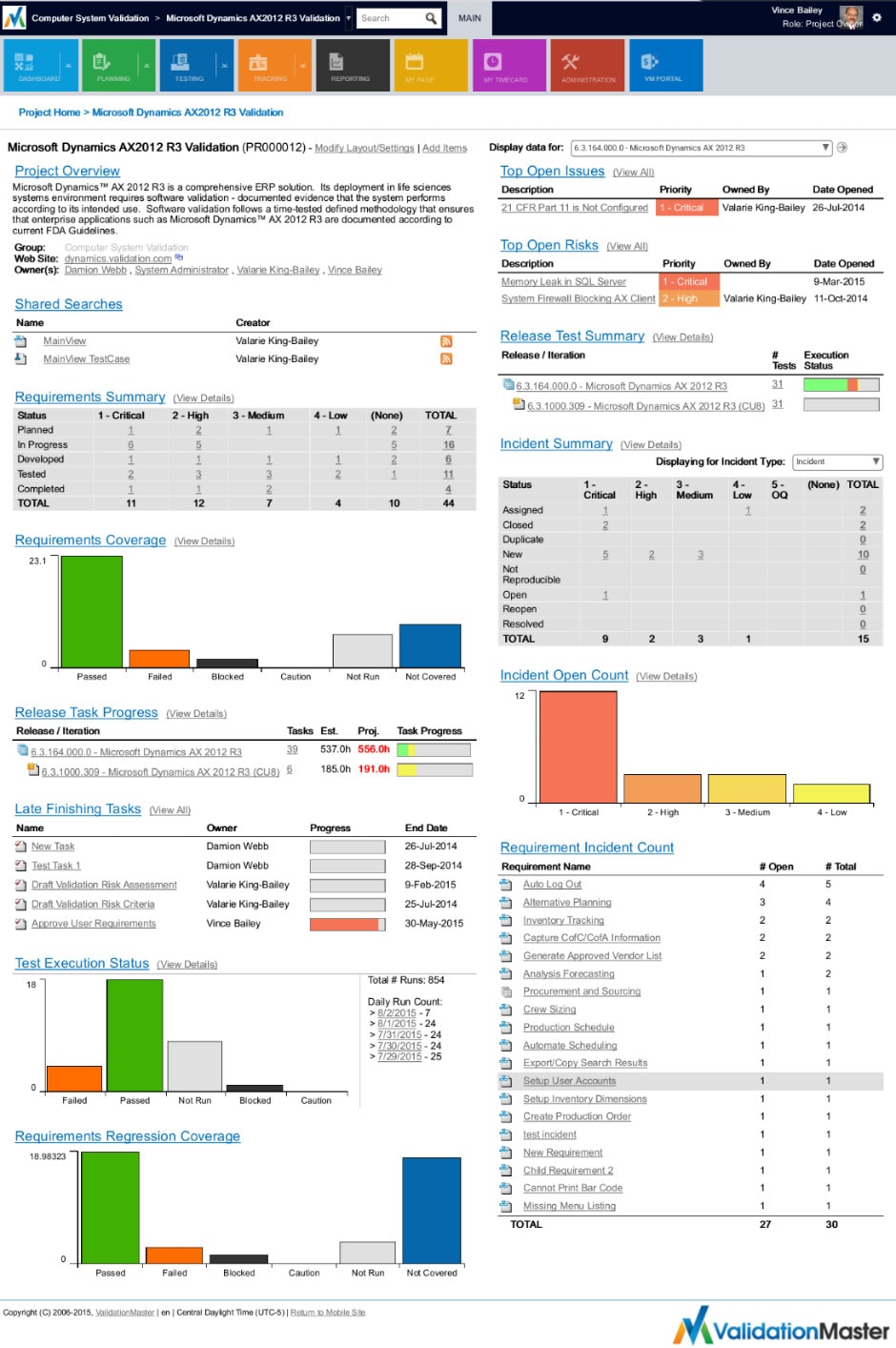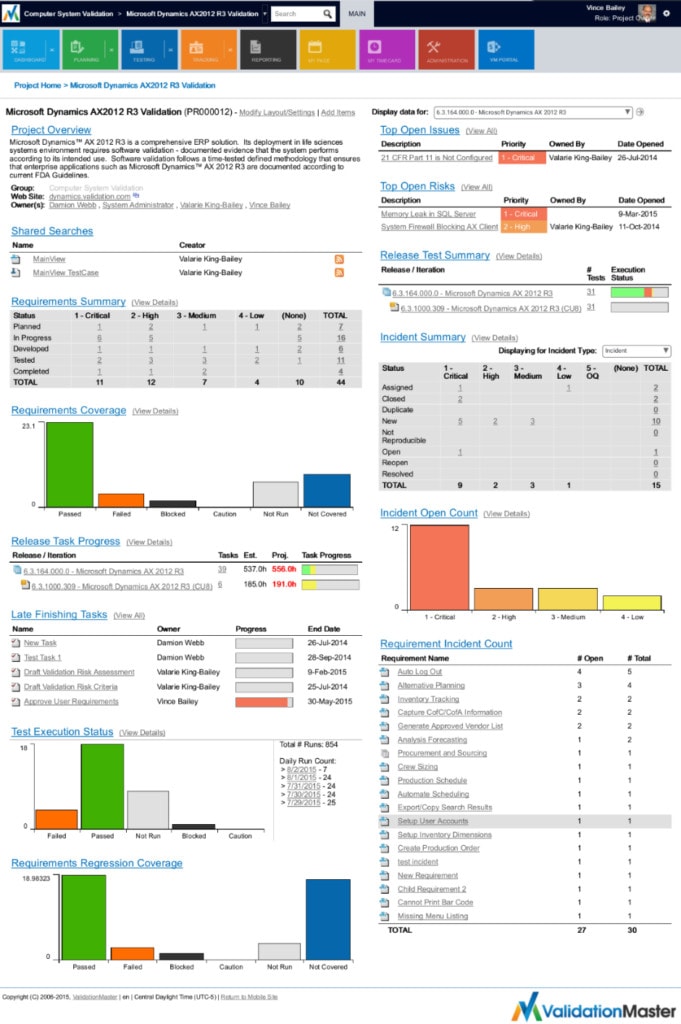 Actionable Validation Intelligence
The FIRST Real-Time Validation Dashboard
Flexible Dashboards
Incident Tracking
Requirements Coverage
Top Issues and Risks
Validation Test Execution Status
Release Management
Validation Task Management
Ability To Manage MULTIPLE Validation Projects
Quality Trend Analysis
Project Budget Tracking
Effective Requirements Management
Track Requirements Effectively and Easily Using ValidationMaster
Create, Track and Manage All Requirements (Design/Functional/User)
Requirements Change Control
Ability To Create Test Script From Requirement
Automated Requirements Traceability
At-a-Glance Test Coverage
Requirements Risk Assessment
Requirements Release Management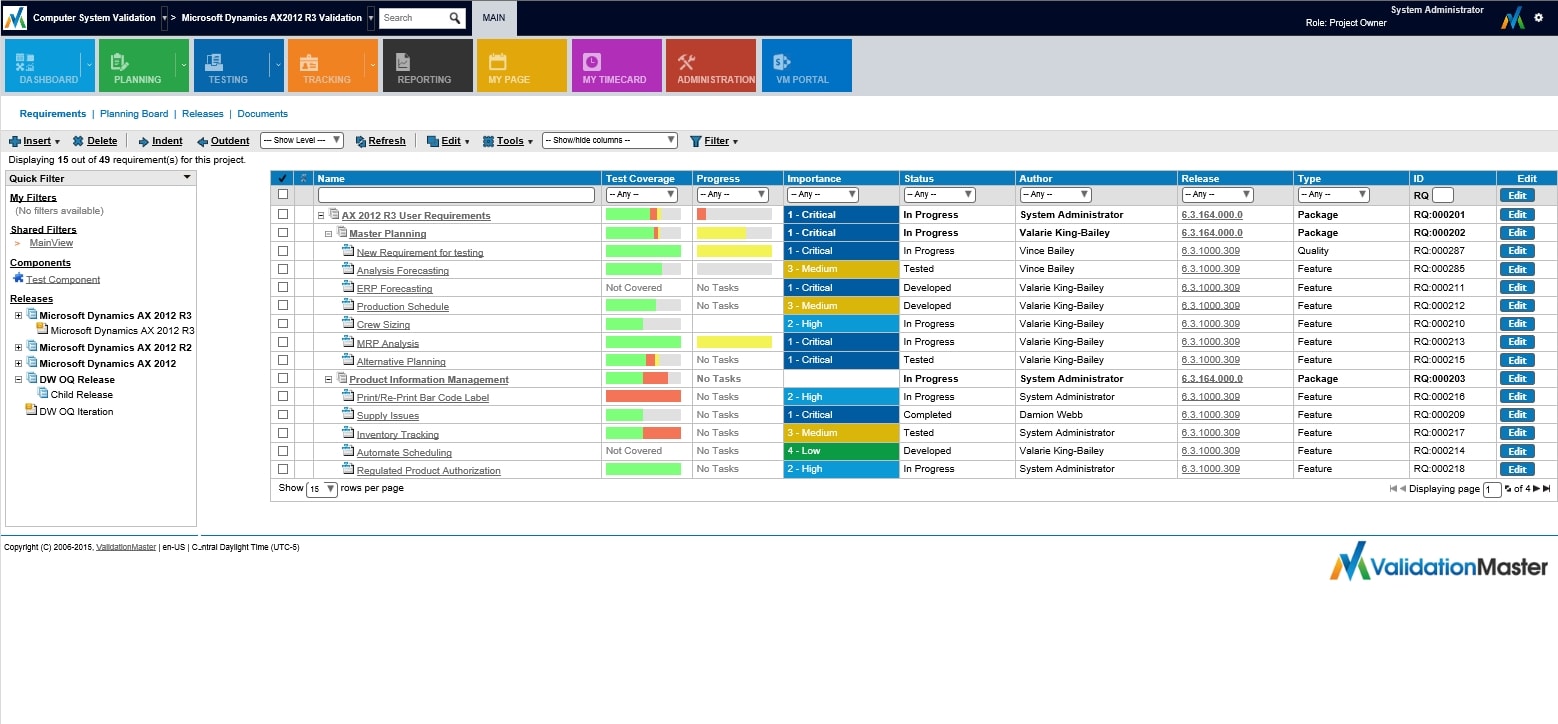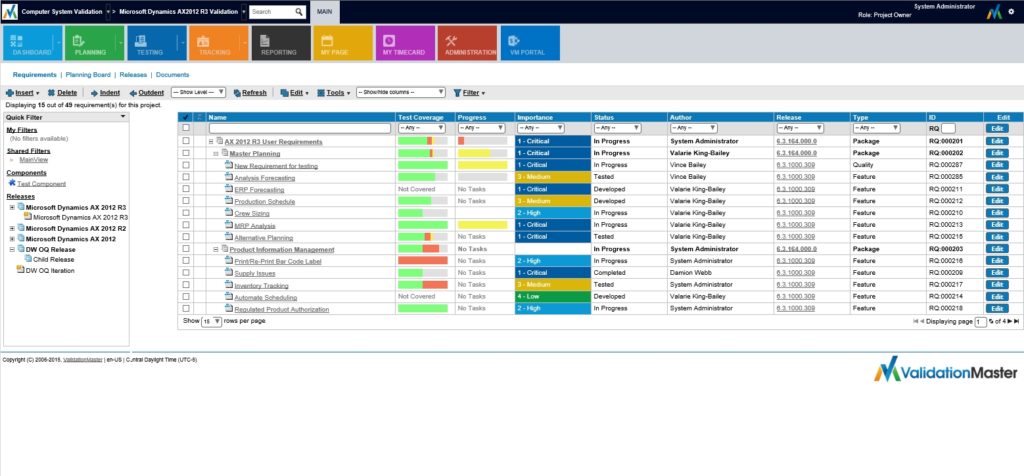 Automatically Create Test Scripts From Requirements

Seamless Integration With 3rd Party Tools
Best-in-Class Test Automation, Requirements Management, Performance Qualification Tools
Out of the Box Integrations With Leading Tools
Requirements Management
Quality Management
Performance Management
Automated Testing Tools
38 Different Languages
Much More…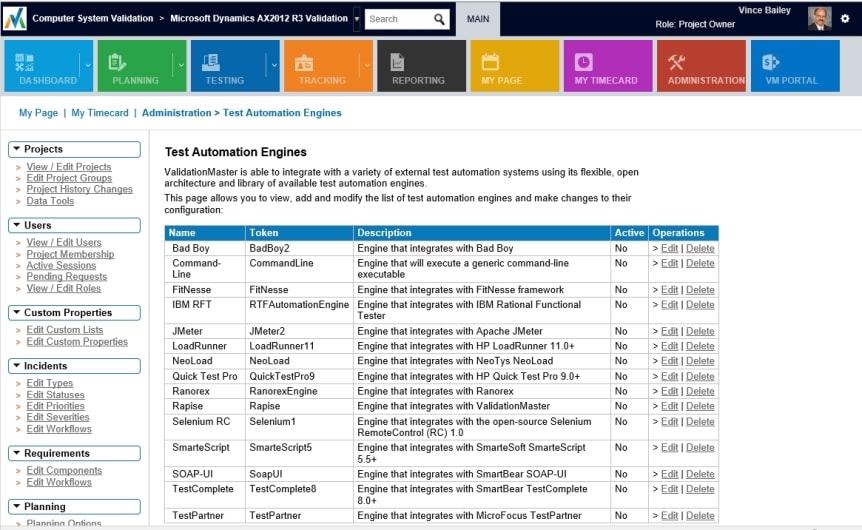 Establish custom attributes for validation assets including requirements, test cases, incidents, et al describing unique, company-specific, searchable project attributes.
Track and manage initial validation, last validation and periodic review dates and show next periodic validation review date. Generate periodic review reports showing entire validation inventory.
Avoid lost validation deliverables through the ability to add attachments and supporting documentation for enhanced validation due diligence.
Validation Project Groups
Organize your validation projects into project groups to faciliate search/retrieval as well as reporting and allow you to effectively manage lean validation projects across the company.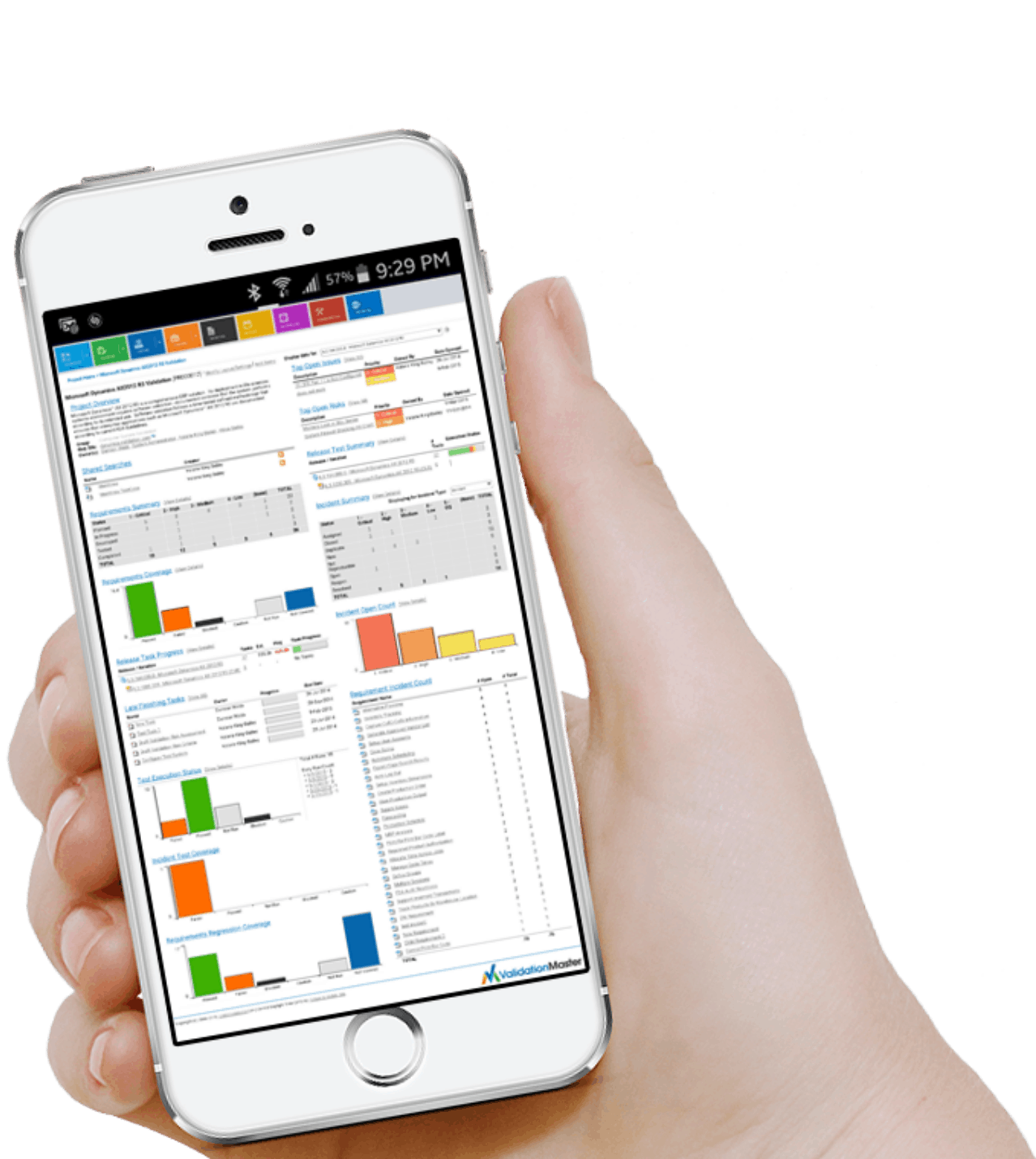 Optimize validation processes to drive project organization, efficiency, task management, cost management and collaboration across the project.
ValidationMaster™ is a configurable web-based system designed to manage the full lifecycle of all types of enterprise validation projects.
Register today to attend one of our weekly ValidationMaster demonstrations. Learn how ValidationMaster can accelerate your validation programs.