Speed, Efficiency and Compliance DELIVERED
WHAT YOU NEED TO KNOW ABOUT
CloudMaster 365™ Validation Accelerators
Acceleration requires automation. Whether you are talking about processes such as validation or mechanical devices, acceleration requires automation to be truly effective.
You were able to obtain the leading global Enterprise Validation Management and Quality system pre-loaded with requirements traced to test scripts and supporting validation documentation to jump start your next project?
Our Validation Accelerator is revolutionary in that for the FIRST TIME, we deliver the automated system you need to succeed. Many software vendors will provide you with a set of documentation to help drive validation processes. They deliver test scripts, requirements matrices and a host of other documentation that will "jump start" validation.
OUR VALIDATION ACCELERATORS ARE UNIQUE
Automation + Documentation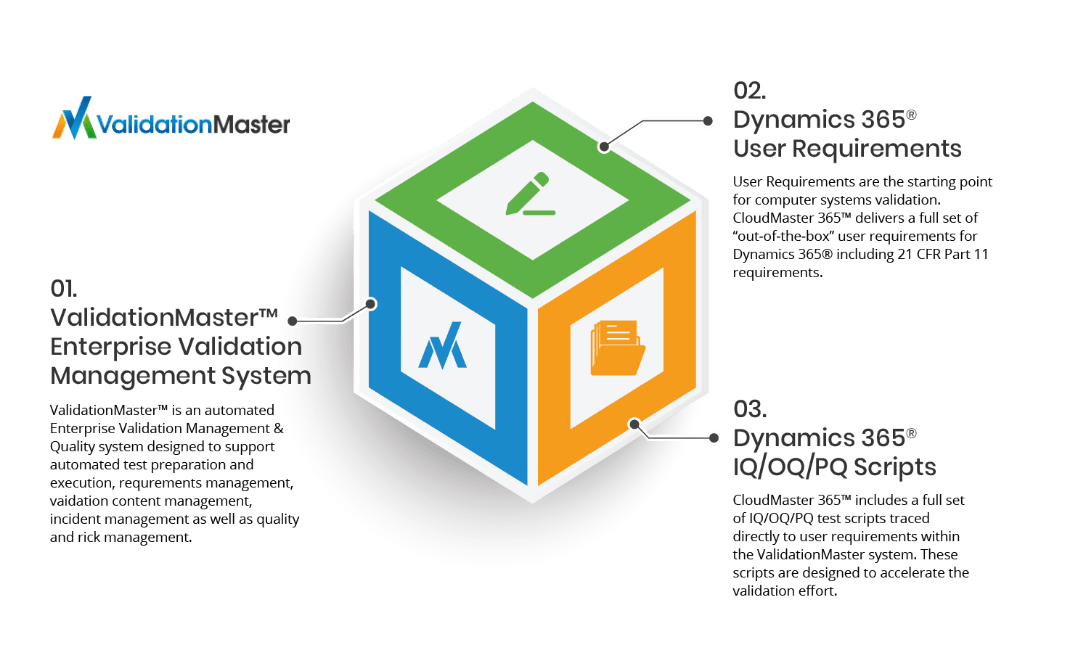 Validation test script development and execution is central to all validation projects.  Our experienced validation professionals can assist with the development of test scripts in accordance with global regulations using our advanced automated tools.
For each ValidationPro℠ engagement, OnShore shall establish an online validation portal to facilitate collaboration throughout the project.  A validation rolling schedule, task list, risk register and incident list is included.
At the conclusion of each project, OnShore will archive all validation deliverables to DVD to support potential audit activity.  All signed/ approved/ effective documentation and supporting info will be archived.
CloudMaster 365™ Validation Accelerators for
Microsoft Dynamics 365®
Merit Solutions MAXLife®
Oracle e-Business®
SAP®
BatchMaster®
Alithya Fullscope EDGE®
Oracle Fusion Cloud®
Microsoft SharePoint®
READY TO ACCELERATE YOUR PROJECT?
Contact us today for a private, no-obligation demonstration of our validation accelerators and let us show you how we can quickly and easily validate your cloud or on-premise solutions
Access our insights library
We are industry thought leader and we have white papers, videos, powerpoint presentations on timely topics and much more!